We have many shows behind us and many great results...
ICH.Royal Romance BAXXTER " Joko"
Finished his CHAMPION OF HUNGARY in a great style!
CACIB Budapest 3.6.2016 - CAC, CACIB, BOB, shortlisted in the Group IX.!
CACIB Budapest 4.6.2016 - CAC, CACIB, BOS + Derby Winner 2016!
I´m very proud of my darling *Joko*, because he is already champion of 3 countries :)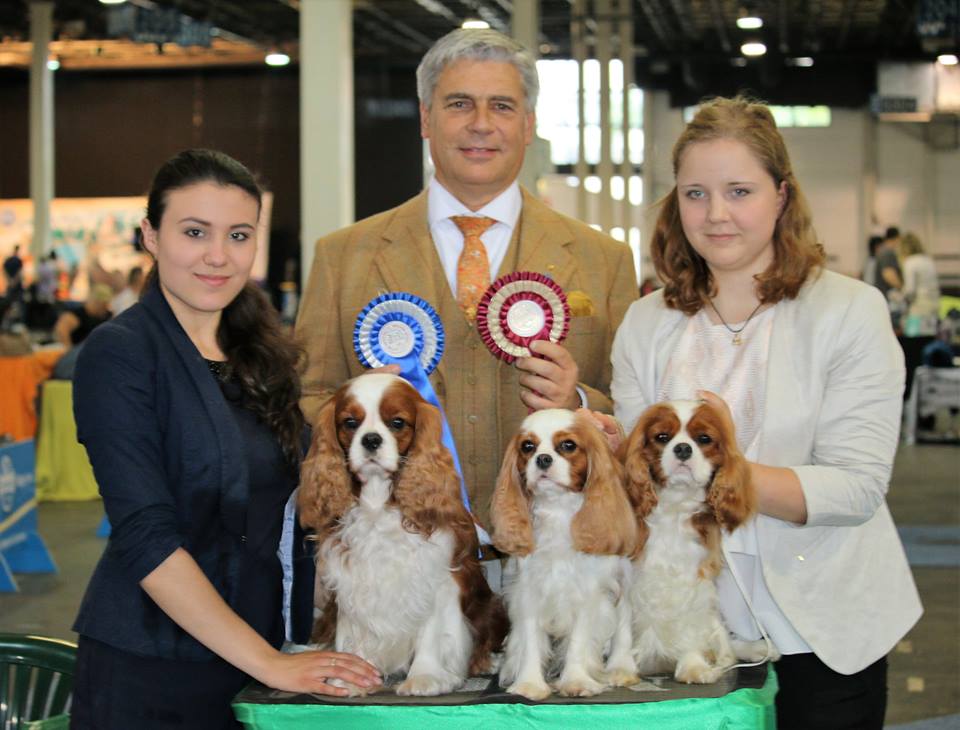 Thanks to judges Mr. Gyula Sárkozy & Mr.Tamás Jakkel both from Hungary. Photo: Mojca Longar, thanks!
***
CH. Bonitos Companeros VERITAS
My beloved Veritas is already at home in Switzerland with my dear friend Jacqueline.
It was a honor to show & have her here with me!
She did a great job and finished her INTERNATIONAL CHAMPION!
Together we took 3x CACIB, 2xBOS and she need just one CAC in Hungary and Slovakia next year to finish her champion titels in these countries. Hope she can come back next year, I already miss her :)
Photo: Martina Kasanová, thank you :)
***
EDITH PIAF Magic Noblesse *Sissi*
I was very suprised from the nice results of this young star owned by Martina Bernold in Austria.
Both days on the CLUB SHOW in Kutná Hora /CZ/ she was Excellent 2 from the biggest class at the show (11 young blenheim females in the class) with a beautiful critique from breed specialist´s Mrs. Tanja Engel (Angel´s Pride DE) & Mr. Mark Sedgwick (Pascavale UK). It means a lot for me! Thank you Martina for the opportunity to show this princess :)
***
***
ICH.Royal Romance BAXXTER "Joko"
Another BEST OF BREED & CACIB for Joko in Slovakia at the International dog show in Lučenec 08.05.2016.
While I was in the ring with the Whippet my boyfriend Patrik did a great job with him and took everything what was possible in the breed (25 cavaliers in breed). Look at my 2 beautiful boy´s :)
one more surprise... Veritas won also CACIB and became INTERCHAMPION that day!
MY BOYS!
Thanks to the judge Mr.Željko Lozic from Serbia
Photos: Roland Furi
***
Some of the TOP results with my handled dogs in last months.
JCH.VASART NA POLE ON POBEDITEL (Borsoi)
5x CAJC, 5xJBOB, 2x JBIG !!!
Finished JUNIOR CHAMPION SR!
Owner: Dašková Oľga
I love this beautiful Russian boy "Polik"
One more photo with Polik ...
CH.GAVRIIL BORISOVICH MRAJA (Borsoi)
CAC, CACIB, BOB, BIG 3
Finished CHAMPION SR
Owner: Oľga Dašková
JCH. BAMBI LOU MARSH- MALLOW LIFE (Whippet)
3xCAJC, 3xJBOB, 2x BOB, 3xJBIG & BIG 2 in junior class
Finished JUNIOR CHAMPION SR!
2x.CAC, res.CACIB first time in adult class
Owner: Mária Konigsmarková
Simply Bambi :)
Flat coated retriever´s
ICH.FLAMBOYANT STARLIGHT OASIS OF PEACE - 2x CAC, 2x res.CAC, BOS, BOB
JCH.ANNABELLA STARLIGHT OF WUNTERHOOD - 2x CAJC, BOS
JCH. ARTUR KAN OF WUNTERHOOD- - 3xCAJC, 2x JBOB, JBIG!
Finished JUNIOR CHAMPION SR!
Owned all by: Ján Vrána
JCH.ARTUR KAN OF HUNTERWOOD winning JBIG
JCH. BRUNEII IVEPET (Lhasa aspo)
3xCAC, res.CACIB, 2x CACIB in Hungary
1x CAC in Slovakia
1x CAC & res.CACIB in Austria
We started 3 adult championship´s with this just 15 months old Lhasa boy "Brumco" :)
Owner: Stanislav Klocok
This year I had the honor to show this boy also at Cruft´s in England :)